Please note: Orders may be shipped 2-3 days after being placed due to a high volume of orders. Sorry for any inconvenience this may cause.
3-1/2 Inch Door Hinge 5/8 Inch Corner Radius - 3558
3-1/2" Door Hinge with 5/8" Radius Corners
GlideRite Hardware brand residential door hinges are available in both 3-1/2-inch & 4-inch sizes with choice of 1/4-inch & 5/8-inch radius corners or square corners. Hinges come fully assembled with matching screws. Pins are removable with a punch and hammer.
Item Information:
Dimensions: 3-1/2-inch length x 3-1/2-inch width

Finish: Antique Brass, Oil Rubbed Bronze or Satin Nickel

Material: Steel

Corner Radius: 5/8" Corner Radius

Knuckles: 5

Mounting Hardware: Matching 1" Screws Included
Please check the image below to determine if this hinge radius will fit your current doors: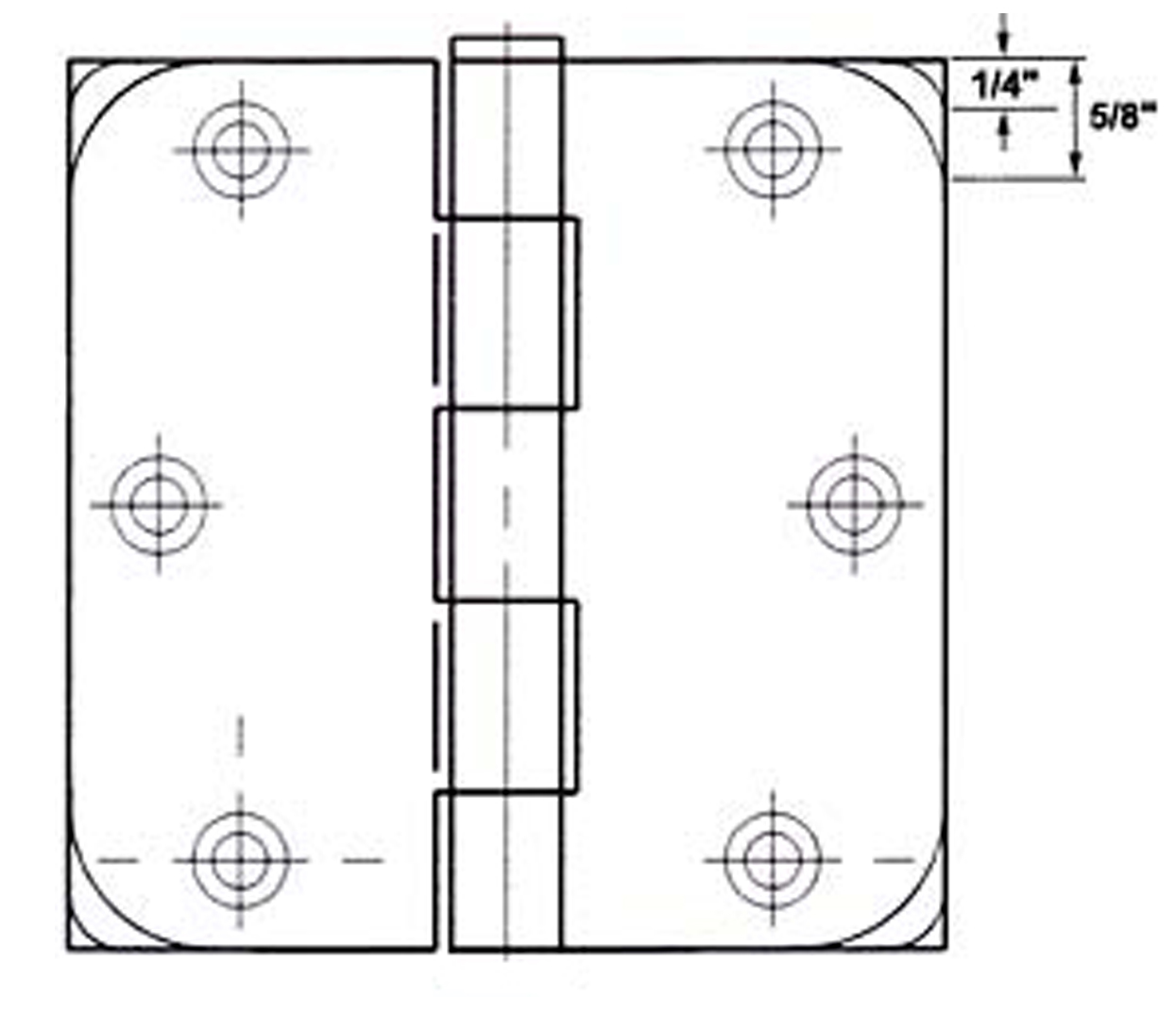 These Hinges are ALSO available in:
Bulk Pricing Discount Table:
| | |
| --- | --- |
| Quantity | $ per Item |
| 1-11 | $3.49 |
| 12-29 | $1.82 |
| 30-49 | $1.40 |
| 50-99 | $1.30 |
| 100+ | $1.25 |
Excellent product! Easy to replace our old hinges. Service was fast!
Looks everywhere for this size hinge in antique brass. These were perfect and worked exactly as advertised. I couldn't be happier with the hinges or with GlideRite Hardware. Thank you.
Fast shippong, quality product
Happy to find a hinge that fit my existing hinge pattern
Fast shipment. Great consistent color. Exact match for old hinges mortise. Take off old and screw on new. EZ!!!
Nice Hinges - Not Perfect
I ordered these to replace hinges that were painted over and I don't like paint on the hinges. They fit fine, but I had a few doors that would rub the opposite door frame. After examining the new hinges, it's obvious that when you close the hinge completely, the two halves do not touch each other flat. They hold the door farther away from the door frame on the hinge side causing it to rub on the opposite side on doors that alreay have tight clearance. I won't call it a defect, but it is causing me a problem. The Penrod hinges that came with the doors folds tighter against itself. Also, if you open the hinge so that it is flat as pictured, the right half is not in the same plane as the left when viewed from the top edge. These are both issues with the precision of the stampings.
Perfect size replacement hinge
I recently replaced my old shiny brass hinges with these hinges. The dimensions are perfect and were easy to install. The finish is a beautiful brushed nickel. Fast shipping. Would highly recommend.
Great hinges at a great price
Very pleased with these oil-rubbed bronze hinges. I purchased them to replace the dated brass-colored hinges in my home. The hinges arrived quickly and exactly as described. The new hinges all operate smoothly, the pins were easily removed with a punch and a light hammer (to add hinge pin door stops), and the included screws were about 1/8 inch longer than the old screws which helped make them secure in the old screw holes. I'd definitely buy these again.
Item exactly as described, excellent value and quality. Have only had them a few weeks, so I don't have a durability rating, but I'm sure they're like all the rest!
These are extremely well built and have just made our home pop! Thank you so much for a great product!
Leave a Review