FREE SHIPPING in the Continental USA!
3-1/2 Inch Door Hinge Square Corners - 3500
Door Hinge with Square Corners
GlideRite Hardware brand residential door hinges are available in both 3-1/2-inch & 4-inch sizes with choice of 1/4-inch & 5/8-inch radius corners or square corners. Hinges come fully assembled with matching screws. Pins are removable with a punch and hammer.


Item Information:
Dimensions: 3-1/2-inch length x 3-1/2-inch width

Finish: Antique Brass, Oil Rubbed Bronze or Satin Nickel

Material: Steel

Corner Radius: Square

Knuckles: 5

Mounting Hardware: Matching 1" Screws Included
Please check the image below to determine if this hinge radius will fit your current doors: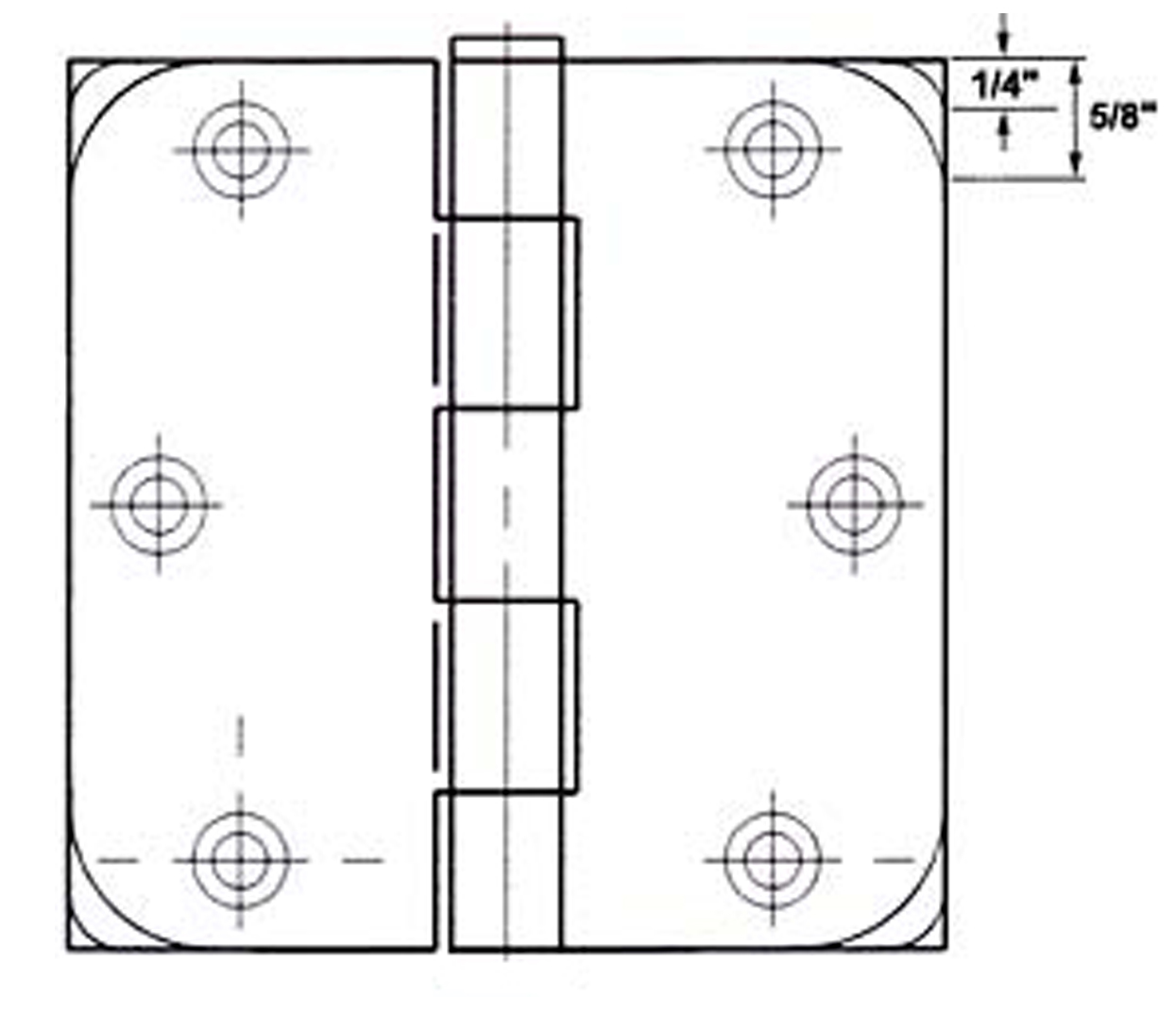 These Hinges are ALSO available in:
Bulk Pricing Discount Table:
| | |
| --- | --- |
| Quantity | $ per Item |
| 1-11 | $4.09 |
| 12-29 | $2.07 |
| 30-49 | $1.67 |
| 50-99 | $1.54 |
| 100+ | $1.49 |
THE PRODUCT ARE GOOD DELI ON TIME
Very pleased with the quality of these hinges. Worked out very well with the hinges and the included screws. Would order again from GlideRite.
Fantastic Price. Fantastic Service.
At first glance the antique treatment looked to streaky to me but when installed these blend well with my beautifully aged brass knobs. They aren't as thick or heavy duty as my original steel hinges (which had 1/8" leaves, these are a bit more than half that) but once I shimmed my door they worked great. I would however recommend using different screws. I ended up using my original steel screws temporarily and ordering new brass ones for replacing them. The ones provided are shorter than the standard 1". Consequently they are not gripping well and I wouldn't trust them to last. All in all a very good value, even replacing the screws. I will be ordering more to complete our house.
Quality Hinges for the Price
Pros: Fashionable, sturdy and quality hinges for the price. Great smooth finish and smooth swivel. Cons: The screws they come with are borderline too short! Luckily, I'm only hanging interior hollow-core doors but if you need these for solid core I would not use the hardware they come with. Also these were thinner than the ones I replaced so I had to shim them with 1/16" basswood. As a precaution to solve the short screw issue above, I driller a longer screw into the frame in the center hole. Overall, great product.
Great product for a great price!
Received the items very quickly and was very impressed with the quality, our contractor quickly grabbed your site address and will be purchasing from you also! Many thanks!
I ordered the satin nickel finish and found these hinges to be every bit as good as the ones sold at HD and for about half the cost. They arrived much faster than expected. I would definitely recommend this product.
Quality at a great price, securely packaged, arrived early
I'm very happy with these new hinges. They are, however, slightly thinner than our old hinges. Which meant that I had to shim each one to keep the door from becoming "hinge bound". Still happy though. They look good and feel strong.
The hinges came in a box and not wrapped separately. I don't believe they were scratched much but there were a few small scratches. The screws were small. If you have newly-drilled holes they probably are ok. If you are putting these hinges on as replacements then the screws might not hold very well. Mine were replacements. I had to buy larger screws
These hinges are very nice. The satin nickel finish is just what I was looking for. I installed my first set today on my handmade doors. At less than $2/hinge, they are better priced than similar hinges at L___s, which were over $6 each. I built all the doors for my home, so this is going to result in considerable savings. Thanks! and thanks for free shipping!
Leave a Review